Main content starts here, tab to start navigating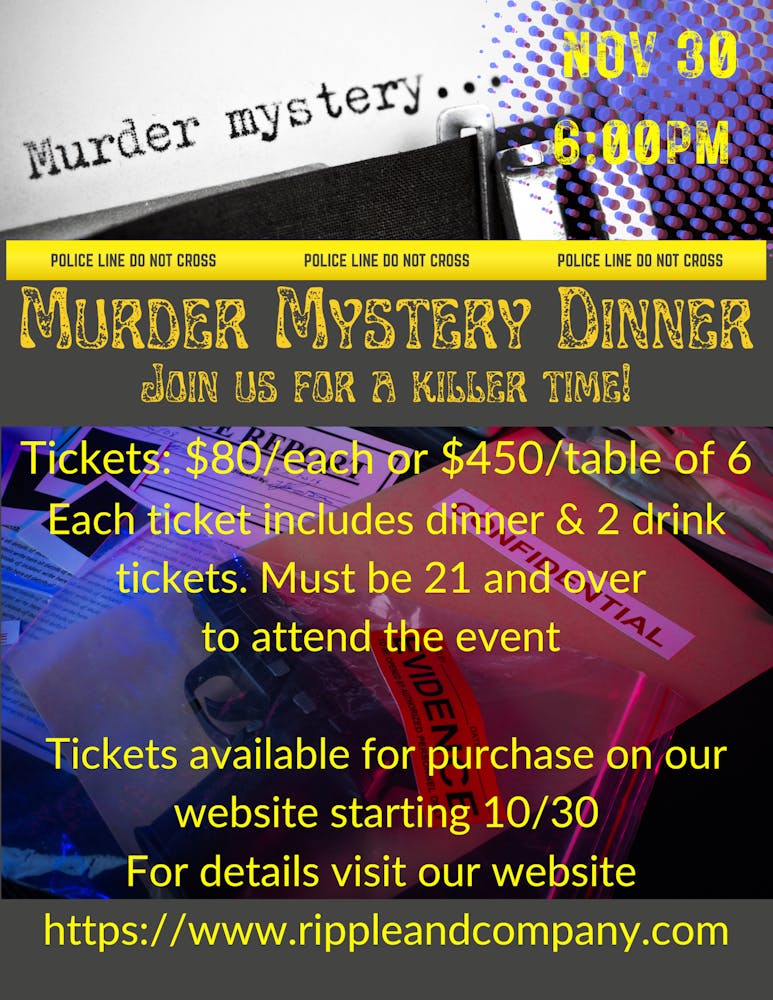 AN INCLUSIVE EXPERIENCE
THAT'S EXCLUSIVE TO YOU
Welcome to an immersive murder mystery experience where you will become a part of the story.
Someone will die before your eyes.
Will you be able to figure out who the culprit is?
Everyone gets involved in the schemes concocted
by our highly skilled mystery crew.
Gather with your friends and family for an evening of entertainment, great food and drinks!
The table that solves the mystery will receive
gift certificates to Ripple and Company!
Individual Tickets: $80/person
Table Tickets: $450/table - each table seats 6 guests
Ticket price includes our specialty Ripple and Company Smoke Show Dinner, Plus 2 Drink Tickets (limited bar items):
RIPPLE & COMPANY SMOKED BRISKET, BRINED & SMOKED LEMON PEPPER CHICKEN, CHEDDAR MAC AND CHEESE, ROASTED POTATOES, LOCAL MARKET GREENS SALAD WITH HOUSE RANCH AND WHITE BALSAMIC VINAIGRETTE, WITH COOKIE & BROWNIE PLATTER
6:00PM - Guests arrive and actors will greet and explain rules and distribute information
6:30PM - Buffet line will open
7:00PM - Let the games begin!
9:00PM - Awards are distributed, Mystery Solved!
Murder Mystery Theme: "Best Laid Plans"
Come to the quintessential whodunnit thriller at the estate of Sir Warren Peace and get thrown into a night of mystery, intrigue, and murder you will never forget. With a killer crowd of people just waiting for murder to arrive on the scene, this night will keep everyone looking over their shoulders and guessing who the next victim will be! Bribe suspects for clues and gather information to uncover the unhinged guest who is whacking all the invitees. Just be careful, because you could be next! Dress your best in evening wear and suits—this is a refined party, after all.
Please email taia@rippleandcompany.com for dietary restrictions or questions
Cash Bar available - Must be 21 or older to attend
You can dress in costume or come as you are