Main content starts here, tab to start navigating
Chef Flex Dinner Event
Nik Emerick - Chef de Cuisine / Ripple & Company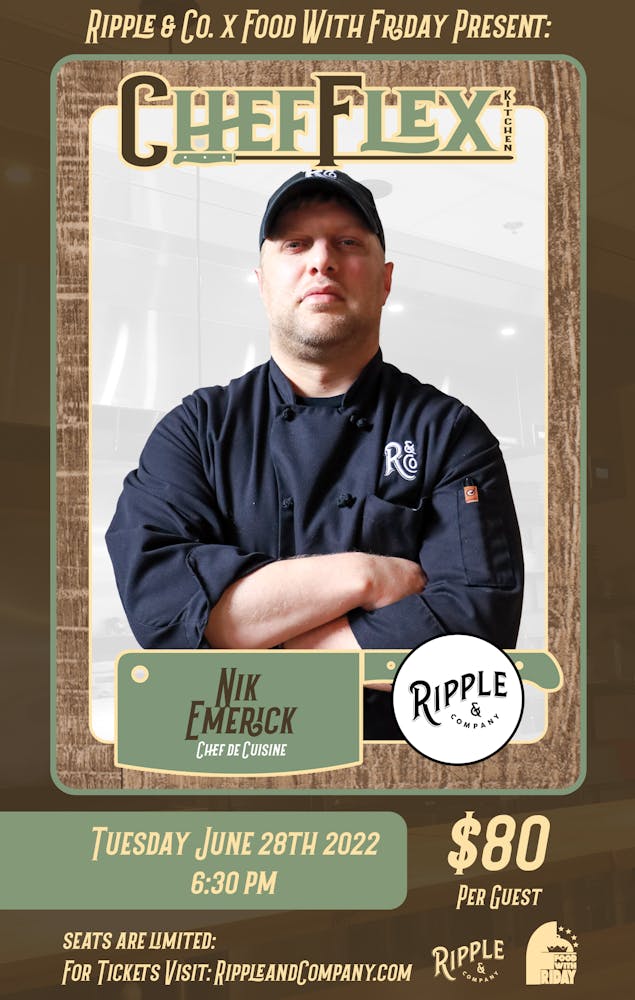 OUR JUNE EVENT HAS BEEN PSOPONED TO 7/19
Ripple & Company
and
Food With Friday Present: ChefFlex Kitchen
ChefFlex Kitchen is a dinner series where talented chefs flex their culinary skills for our dinner guests. Each dinner will include 4 Courses from these amazing chefs and drink pairings from Ripple & Company's mixologist Thomas Gregg.
7/19/2022 – 6:30pm – 9:00pm
Tickets available until 7/14
Menu:
Course 1 - Cajun Smoked Salmon with Grilled Pineapple and Mango salad, Local Greens, and Avocado Lime Coulis
Course 2 - Smoked Pork Belly with Soy Ginger Glaze, Carrot Puree, Grilled Baby Bok Choy, and Pickled Watermelon Radish
Course 3 - Smoked Short Rib with Red Wine Reduction, Potato Au Gratin, Crispy Shallots, Shaved Brussels, and Tasso Ham
Course 4 - Smoked Banana Semifreddo with Chocolate Fudge, Vanilla Whipped Cream, and Cherry Reduction
Seats are limited so purchase your dinner pass HERE. This is an event you don't want to miss!
Cost: $80/Person
ChefFlex Kitchen:
Instagram
Food With Friday: