Wine Dinner
January 27 2023 | 6:00 PM - 9:00 PM
1007 Main St, Lafayette, IN 47901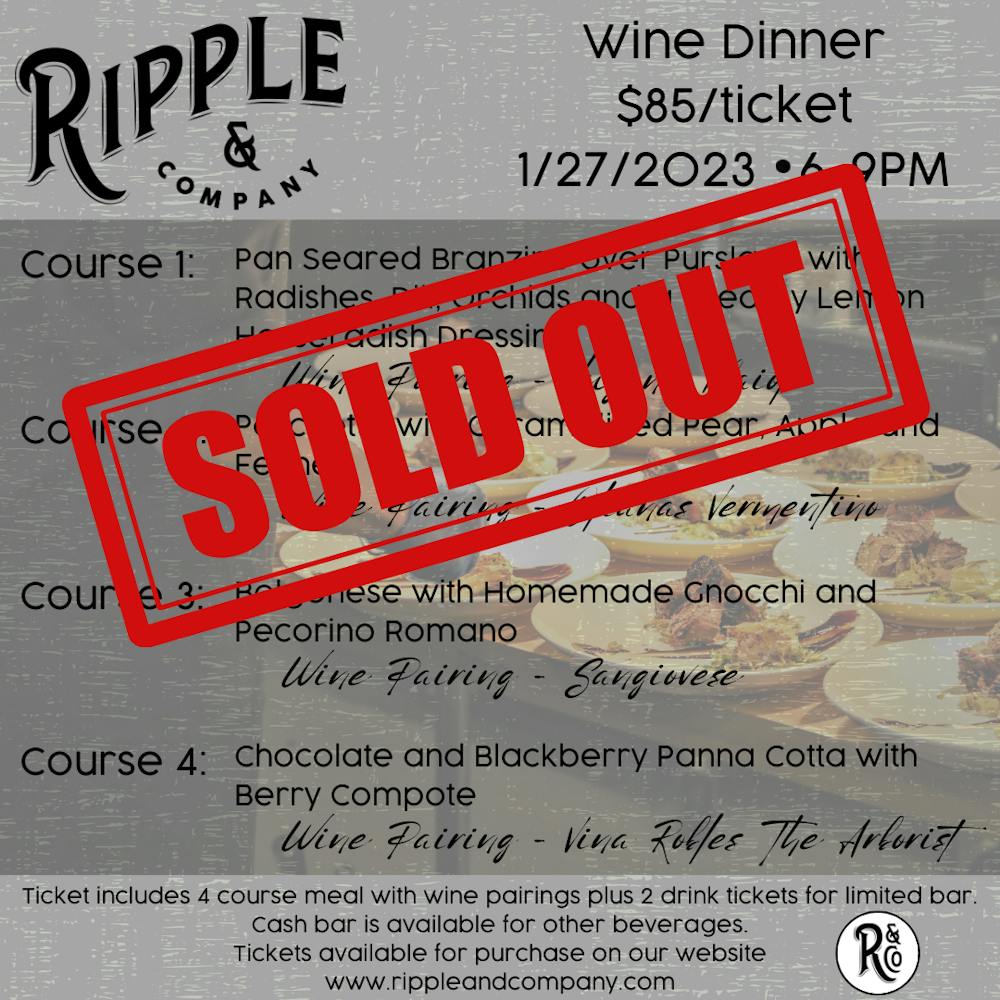 6:00pm - Guests arrive and enjoy cocktails
6:45pm - Guests get seated for dinner
8:00pm - Dinner concludes but guests can stay and enjoy the space with a cocktail
Course 1: Pan Seared Branzino over Purslane with Radishes, Dill, Orchids and a Creamy Lemon Horseradish Dressing
Wine Pairing - Lugana Maiolo
Course 2: Porchetta with Caramelized Pear, Apple and Fennel
Wine Pairing - Olianas Vermintino
Course 3: Bolgonese with Homemade Gnocchi and Pecorino Romano
Wine Pairing - Sangiovese
Course 4: Chocolate and Blackberry Panna Cotta with Berry Compote
Wine Pairing - Vina Robles The Arborist
Must Be 21 and over to purchase a ticket/attend the event
Each ticket purchase includes 2 drink tickets (to be used for limited bar menu), 4 course meal with wine pairings for each course.
By Purchasing Ticket
You hereby authorize Ripple & Company and those acting pursuant to its authority to: (i) record my likeness and/or voice on a video, audio, photographic, digital, electronic or any other medium; (ii) use my name and biographical material in connection with such recordings; and (iii) use, reproduce, exhibit, and/or distribute my name, biographical material, and such recordings in any medium (e.g., print publications, video, internet, etc.) for promotional, advertising, educational, and/or other lawful purposes. I release and waive any claims or rights of compensation or ownership regarding such uses and understand that all such recordings shall remain the property of Ripple and Company.